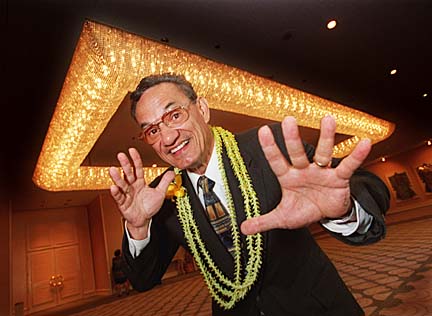 Mr. Bright, Teacher/Director, Kaneohe, HI...one of my first true mentors...
Behind every human being is a team. It may be made up of family, friends, perhaps even their own children. But, what team is behind the person that decides to jump in to one of the craziest, most taxing, most fulfilling professions there is? Who creates "the teacher"?
Easy...other teachers. As a proud product of the public school education system, I've been lucky to have slew of mentors that have entered my life over the years and collectively inspired me to try my hand at teaching. As my 13th school year begins, I would like to honor two of them today.
Mr. Bright: Teacher/Theatre Director, Castle High School, Kaneohe, Hawaii.
Mr. Bright was the drama teacher and director at our local magnet school for the arts during the 1980's and 90's. He passed away a month ago, and although I could not make it back to Hawaii for the funeral, this is my tribute to him.
When Mr. Bright came to my high school to talk about bussing across town to the "fancy theatre," I thought "no way, I'm not worthy" but something about the sparkle in his eye, his infectious smile, and his bounce must have screamed love to me and my little punk rock self got on the bus and auditioned for my first main stage production: the funky Motown version of "The Wizard of Oz," "The Wiz.
One of the showstopping ballads in the musical was Auntie Em's song to Dorothy, "If You Believe." Mr. Bright decided to use it as a warm up song for the entire cast. Each night before curtain we would stand backstage holding hands and sing "If you believe," trying desperately not to ruin our meticulous stage make-up. He would always end with hugging each one of us (a cast of 50!) and whispering in our ear, "I believe in you." It became his mantra.
Mr. Bright taught me how to take risks, he taught me how to accept all types of kids, and he taught me how to love with an open heart. He showed me that diverse groups of people can come together and create magic...literally, create magic.
He passed away earlier this month- 81 years old with his family and the almost the entire island of Oahu by his side. Mr. Bright spoke with words of love every day and affected generations of young people including my struggling teenage self.
All I know is there are some amazing productions going on in heaven right now. Thank you for believing in me, Mr. B. - I love you.
Mrs. Reyes: 8th grade Language Arts, Kailua Intermediate School in Kailua, Hawaii.
The reason I'm an English teacher today can be credited to one of my earliest mentors- my 8th grade English teacher, Mrs. Reyes. Mrs. Reyes had a short helmet of tight curls, she wore thick glasses and bright colorful muu muus. The three words used to describe her most? SHE LOVES KIDS. She thought of every kid as her own. I remember her catching my friend Jimmy drinking alcohol behind her classroom after school one day - he poured some tiny bottles of vodka into a Big Gulp cup from 7-11. Her 1st response before she walked him up to the office was how creative he was to recreate a scene of William Shakespeare in the pub? I don't remember all of her specific lessons, but I do remember how she made me feel: important, invincible...loved.
She took trips to England in the summer and brought back cool masks, snow globes of Big Ben, and tubes of dirt from Stratford-upon-avon. The year I had her she decided that Romeo & Juliet was too elementary, so we were going to read Macbeth..in 8th grade. I can still recite the witches' scene today.
Ten years ago, when my son was two years old, I was living in Kailua and walking back from the beach. Before I knew it, I turned my jogger stroller to the right and was headed towards Kailua Intermediate. I wanted to see if Mrs. Reyes was still there...she WAS! The office directed me to her room...the same room in the back of the school. I started to get nervous...would she remember me? Is this weird? I popped my head in the door and saw a much different looking woman who I actually thought was a sub: Mrs. Reyes had undergone gastric bypass surgery, so there was actually much less of her! She greeted me with "Bush?" (My maiden name!) I said, "Yep!" We laughed and talked, she tickled Toby and I thanked her for helping me find my bliss. She had no idea I was an English teacher. She was stoked.
I don't think people plan on becoming a mentor. I think it grows organically out of a genuine love and sincere yearning to make a difference. We don't always know the kids we are affecting. What actions will you take today that a middle-aged adult will look back on decades from now and thank you for? Wouldn't that make all the hard work worthwhile?